The winner of the Leopold Bloom Art Award 2021: Eszter Szabó
Nominees 2021:
Nikolett Balázs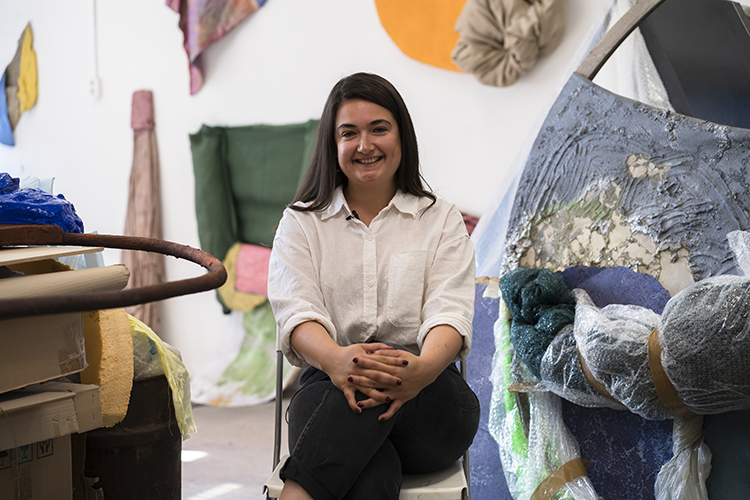 Nikolett Balázs (b. 1990) creates artworks that redefine classic artistic techniques and rethink materials of our surroundings. Often originated from peripheral environments, she drags found objects and poor materials from their milieu, and elevates them to the status of artwork through a process of recycling that questions their values and interpretation. The rusty wire bundle, industrial foam and waste wood integrate with the canvas, oil paint, and gypsum in one composition. The artist folds, cuts, untwists, guts, sews, glues, forms, paints and constantly transforms the contexts of raw material. The playful, sensual, social and aesthetical natures of fine art are essential elements of Balázs's art that balances on the borderline of abstraction and figurality. The examination of our socio-cultural system, the reinterpretation of our consciousness of reality is the main task of Balázs's activity, which places a special emphasis on the identity of those living in the periphery and on the representation of women's experience. Her artworks go all the way down to the roots, into the deep, embedded in the story of our own age and personal mythologies.
Roland Farkas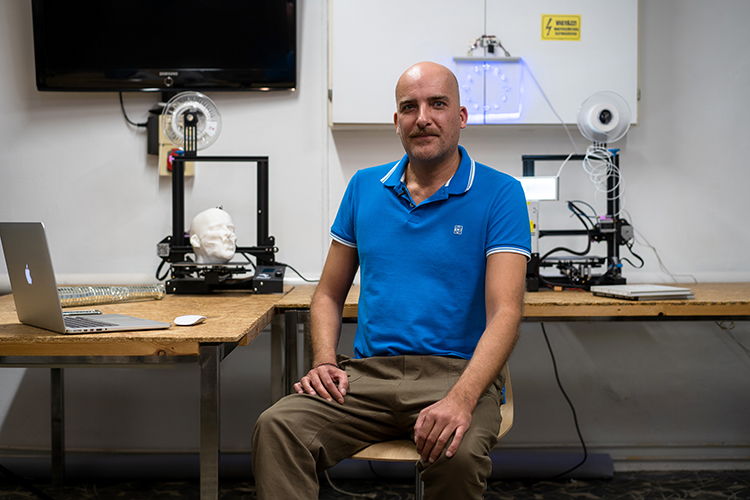 I am an intermedia artist based in Budapest. In my works, I concentrate on the mechanisms of social inequities and the value of human life in contemporary society. My recent conceptual experiments are focusing on the function and working schemes of the monetary-based value system in our late-capitalist society: they are ironic reflections on today's globalism realized in various media.
I have been examining the crisis of capital using banknotes as an artistic medium for a long time. Money as the symbol of the current economic system during the artistic process usually turns into an ironic illustrative tool to show the system's defects. As a customary means of communication, I am also interested in money's role used in our daily lives, that connects and separates people at the same time. In my previous projects realized with audience involvement, created within the context of the 2008 economic crisis, I have modeled the devaluation of money in the post-crisis Argentina (Change, 2010–2019), examined the revolutionary impact of the last few decades' economic boost on South Korean society (New World Exchange, 2018), deconstructed euro banknotes (Bank of the Future Limited, 2019) evoking the haunting of capital's spirit between globality and locality and analyzed the radical difference between art's commercial and intellectual value in the Netherlands (Whitewash, 2012) and Hungary (Draw Your Money, 2011). In the latter project, I reduced HUF bills to mere objects by removing the paint and then repainted them with the involvement of the audience, thus creating a simulation of money as a work of art, creation of value, and devaluation at the same time.
In my recent solo exhibition – The Feast of Victory over Forces of Evil (2020) – I designed a 'digital panopticon' of the state of crisis. This is an online exhibition filled with scanned human figures taking selfies, demonstrating, queuing for Covid-test, etc. form groups of post-digital sculptures.
In 2021 my monographic catalog was published with the title Crisis Diaries.
Olga Kocsi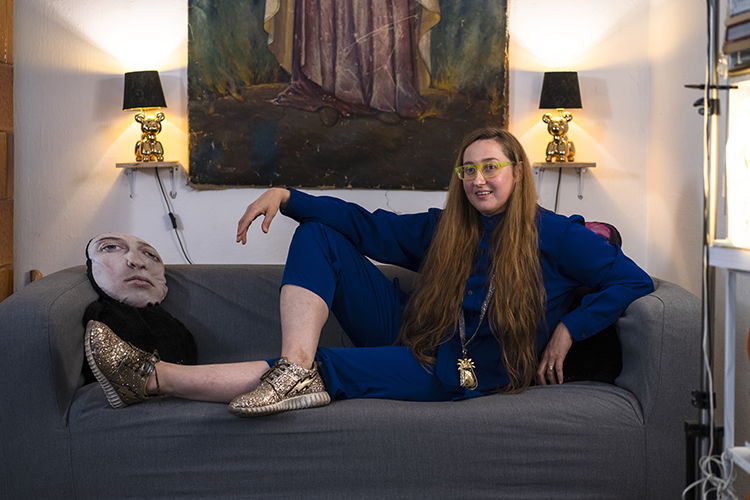 Olga Kocsi (1987) is a multimedia artist based in Budapest, working with photography and video installations. She creates multisensorial experiences relating to topics that lie in the cross-section of various scientific fields, such as the relation between reality and virtual reality and its potential evolution in the future, pushing and mapping the borders between private and public spheres. Her work seeks to actively involve the spectator by creating unorthodox situations for them.
Gábor Koós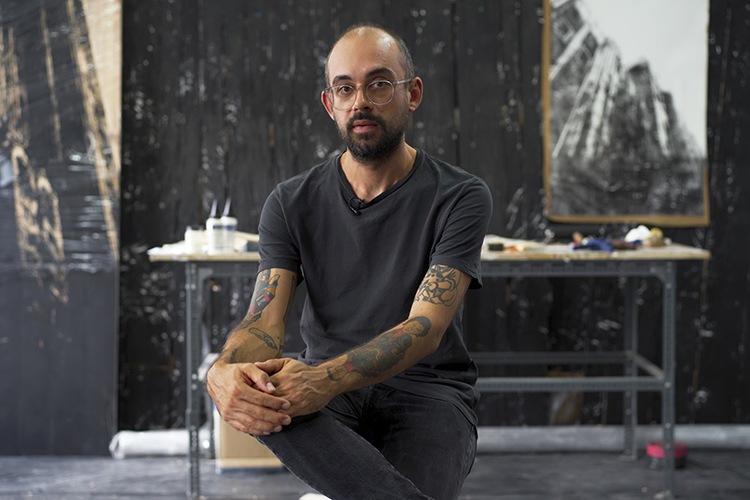 My work is about preserving. I record and document personally relevant issues, objects, and places. This approach is in line with diary-writing, and it grew out organically from a travel, during my time as an artist-in-residence in Glasgow. Being away for the first time and being on my own, it became very important for me to document my experiences.
I wanted to find the simplest and most direct way of preserving. I also wanted my work to reflect my personal affection to the documented objects. From this motivation, two techniques emerged, which are both deeply rooted in the tradition of printmaking, but in a way that also completely negates this tradition. The first approach was direct printing by using frottage technique; I basically applied paint on my object, which then became the matrix, and by printing it on paper, I was able to save the traces of people around me, the grass in the park, or a piece of stone. I compiled these prints in an artist book, the Glasgow Diary. Since then, I've been using this technique almost in all of my work from artist books to large-scale paper installations.
The other approach that I first elaborated for my diploma work is based on woodcut technique. Large-scale woodcuts allow me to preserve and transmit the experience and monumentality of bigger objects and spaces. I arrange these artworks as one installation where I place the print and the corresponding matrix in the same space. Showing both reflects my approach to printmaking. Although woodcutting is a reproductive technique, I strictly create unique prints, exhibiting the matrix and the print of the artwork as one unit. Treating both the matrix and the print as unique and original objects reflects the problematic of copy and original, which is inherent in any printmaking process. The self-imposed restriction of making one single print of a matrix is also a statement, which is a contrast to the nature of printmaking.
Eszter Szabó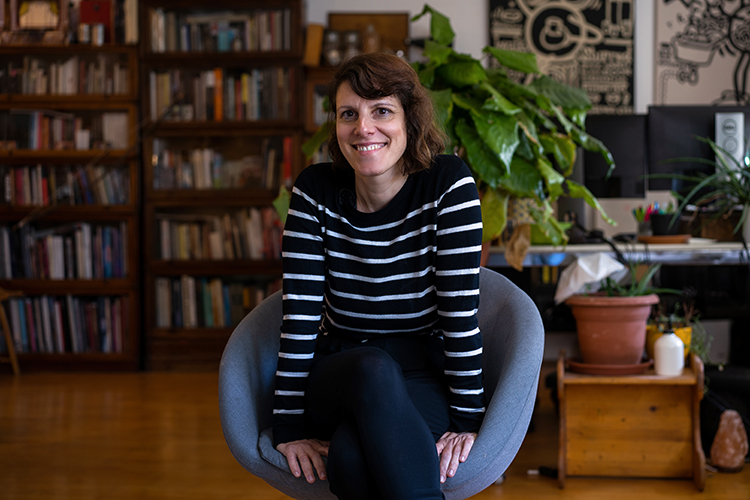 Eszter Szabó lives and works in Budapest. She has an MA of the Hungarian University of Fine Arts, painting department. In 2016 she finished her postgraduate studies at Le Fresnoy École des Arts Contemporains.
Her works are mostly non-narrative videos that are animated versions of her paintings. She is exploring the encounter between constructed ideas of men versus human reality. She researches manifestations of social processes and the origins of public opinion. Her approach is to observe and wonder at ordinary details of everyday situations that are so familiar that they almost become invisible. She creates fictive characters by rearranging these fragments. She confronts the aesthetics of status quo with vulnerability and weariness of everyday life. The protagonists of her recent paintings and videos are weary women who wander around in everyday ordinariness. She explores notions of domestication, compliance, inercia, and invisibility.
She has participated in several solo and group exhibitions, as well as art fairs around the world.